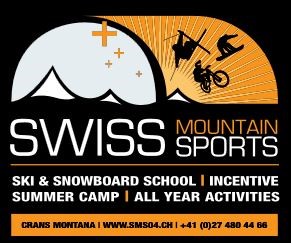 SWISS MOUNTAIN SPORTS IS ACTIVE IN THE MOUNTAINS THROUGHOUT THE YEAR.
OUR PROVISION FALLS INTO 4 MAIN AREAS:
SMS SKI AND SNOWBOARD SCHOOLS
SMS is a member of the Swiss Federation of Ski Schools (Swiss Snowsports) and recognized official ski school. Its professional ethos strongly emphasized tuition based on the most affective and progressive techniques, and on ensuring that learning approaches are carefully adapted to individual needs. SMS includes an official guides office, offering the services of professional UIAGM guides for mountain access.
Our programme includes: Kids'Club (Tom Pouce 3-6 and Junior 6-12 years of age) and Teen's clinic (12-15), with all classes limited to a maximum of 5 participants - module-based classes for adults, with all classes limited to a maximum of 7 participants - private lessons - racing clinics - heliskiing - ski camps & language courses - snowshoeing - cross-country skiing - sledging - and more..
SMS SUMMER SPORTS SCHOOL
Situated in the heart of the Rhone Alps, Swiss Mountain Sports specializes in outdoor mountain activites. We have been running day programmes for children since 2005, carefully adapted to their skill level and abilities. We run a wide range of programmes for adults, with a IFMGA professional guiding service available for more extended and demanding routes.
Our programme includes: Kids programmes (7days/7) for 3-6 year olds; and 12-15 year olds - international summer camps and language courses - SMS bike school - hiking - rafting - canyoning - climbing - wine tasting - scenic panoramic - flights by helicopter or plane - taxi flights - and more...
SMS CORPORATE TEAMBUILDING AND RELATED ACTIVITES
In line with research on the transfer, into professional life, of skills acquired in outdoor teambuilding activites, SMS has developed engaging, competence-based activites focusing on motivation, competition and collaboration, time keeping, and other important elements. All programmes are tailor-made, and SMS can deliver programmes which range from a couple of hours to complex 'all inclusive' services (transport, accommodation, meals, activites, etc). While it is rewarding to experience these in the environs of Crans-Montana and the Rhone Valley, we have the capacity to create and manage bespoke programmes throughout Switzerland, and indeed beyond - both in Europe and worldwide. Do contact us to discuss your requirements.
Our programme includes: Olympiads - alpine 'raids' - orienteering GPS itineraries - raft construction & races - cultural & discovery trips - ski weekends - slalom racing - and more...
SMS EVENTS
Alongside its corporate offer, SMS provides event-organising services, including seminars, meetings, conferences, formus and sports events. Crans-Montana not only has the benefit of clear air and stunning location, as the home of large international sporting events, it has significant capacity in respect of accommodation and venues. Combining its deep commitment to skiing with its organizational capacity, SMS administers and runs the annual 'Trophée du Mont-Lachaux' - the oldest ski race in Switzerland.
We offer services in respect of : conferences - seminars - product launches - forums - sports events